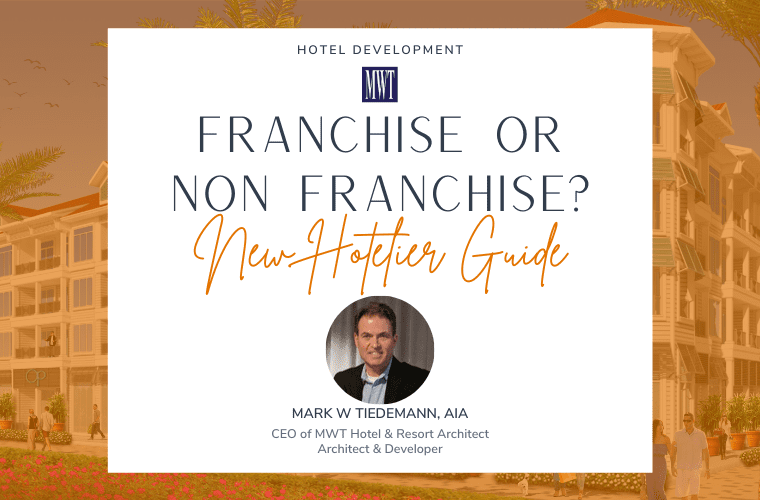 "Why do I want to do a franchise hotel?"
A question that I always get every time my client approaches me for the very first time. My answer is simple.
A franchise will add structure in place. Otherwise, to go it alone you are at great risk of failure as a beginner or novice developer, your chances are slim to get conventional financing for your project. Banks will look at you as any inexperienced developer without a track record and that will be the end of your project. That said, franchises like Marriott, Hilton, Hyatt, IHG, Choice, Wyndham, and many others, greatly outweigh the benefits on not having a franchise on your side from the kickoff.
Franchises do not want you to make a mistake. They will guide you from the very beginning from land selection, demographics, market studies all the way through the planning process to completion. Once your project is built, they will guide you on human resources and get you the correct staffing and teach the strategies to be successful. Remember if you are successful, they are successful. Look at them as a teammate.
Let me just say, there are some very wealthy novice hotel developers in the world that are willing to throw their money away and go it alone. These are people that can afford to throw money away. Cash can heal a lot of problems.  In the end, sure they are successful hoteliers too, but usually at a greater cost.
Most experienced real estate developers do not ever want to lose money and having less ego will always help them growing faster, better, and be more profitable. Some of the developers I have worked with started with one hotel and now own ten plus properties.
Yes, there are 100 reasonable arguments not to franchise. In some cases, they do make sense – though it's not the norm. Of course I will tell you some of the reasons not to franchise :
There are no franchise  available in your marketplace that work with your demographics
You are converting an historical building that won't necessarily work with a franchise
You are in a rare city where the density and hotel demand will outweigh the need for a franchise. This is where any built hotel will work. Think New York, Lagos, Paris, etc.
You want to incorporate a water park or a destination hotel where it still doesn't make sense to franchise because you have a unique offering, think Maddona hotel in Los Angeles, the list goes on but I am sure you get the idea.
Let me add another quick thought here, just because your family left you the land and it is in the middle of nowhere, you probably are not Walt Disney. So, sell your land! It is not a hotel location! Everyone thinks they have the golden Grail in their land. Look at car traffic, demographics, market studies, etc. before you decide to be a hotel developer.