MWT ARCHITECT + HILTON HOTELS & RESORTS
Total Revenue dari
Konstruksi Terselesaikan
Proyek Perhotelan Selesai
Tahun Pengalaman di Industri Perhotelan
MWT Architect + Hilton Hotels & Resorts |
History
Sejak 1994 MWT Architects telah bekerja dengan Hilton Worldwide dan terus memupuk dukungan dan kegembiraan dalam bekerja dengan tim di Hilton. Bekerja dengan Hilton tidak seperti yang lain karena perusahaan memiliki begitu banyak Sejarah. Didirikan oleh pemimpin besar Conrad Hilton pada tahun 1919. Sebagai penyedia hotel, ini adalah perusahaan yang luar biasa dan MWT Hotel Architect dan Hotel Plans selalu kagum dengan sejarahnya dan senang bisa mengerjakan rencana hotel masa depannya. Saat ini Christopher J. Nassetta adalah Presiden dan Chief Executive Officer untuk Hilton.
Arsitektur dan pengembangan melalui partner dan franchisee telah memicu pertumbuhan luar biasa baik untuk Hilton maupun MWT. Kami berbagi visi Hilton yang sama dengan klien kami yang tak terhindarkan mendukung merek, kepemimpinan, dan tujuan Hilton. Telah ada pertumbuhan yang konsisten dan kebutuhan untuk rencana hotel dan arsitek hotel dalam mendesain, interior, eksterior dengan ruang yang mengundang. Pelancong dunia ingin melihat, dan mengalami desain yang hebat dan kami memenuhi misi kami sebagai Arsitek Hotel. Sistem engineering kami yang dan interior khusus sesuai dengan nama Hilton dan standar mereknya.
Saat masa depan pengembangan hotel dibuka, MWT kini mendesain dual dan tri properti hotel bermerek dengan Hilton. Pengembang real estat telah menerima tawaran baru ini. Meliputi keseluruhan wisatawan dari pariwisata, hingga pekerja bisnis, atau hanya keluarga yang membutuhkan masa tinggal yang lama.
Kami mengembangkan solusi nyata yang memenuhi standar merek sementara juga menyediakan value engineering untuk pengembang. Bagian terpenting yang diberikan oleh arsitek hotel adalah pengalaman arsitektur yang luar biasa bagi tamu yang merupakan sesuatu yang diusahakan oleh Hilton dan MWT sebagai tujuan utama kedua bisnis kami. Tidak masalah dengan properti, terkadang desain hotel atau resor yang modern dan sederhana yang memiliki penawaran hebat atau properti kompleks dengan penawaran canggih. MWT Hotel Architect dan Hotel Plans ada di sini untuk membantu merancang masa depan.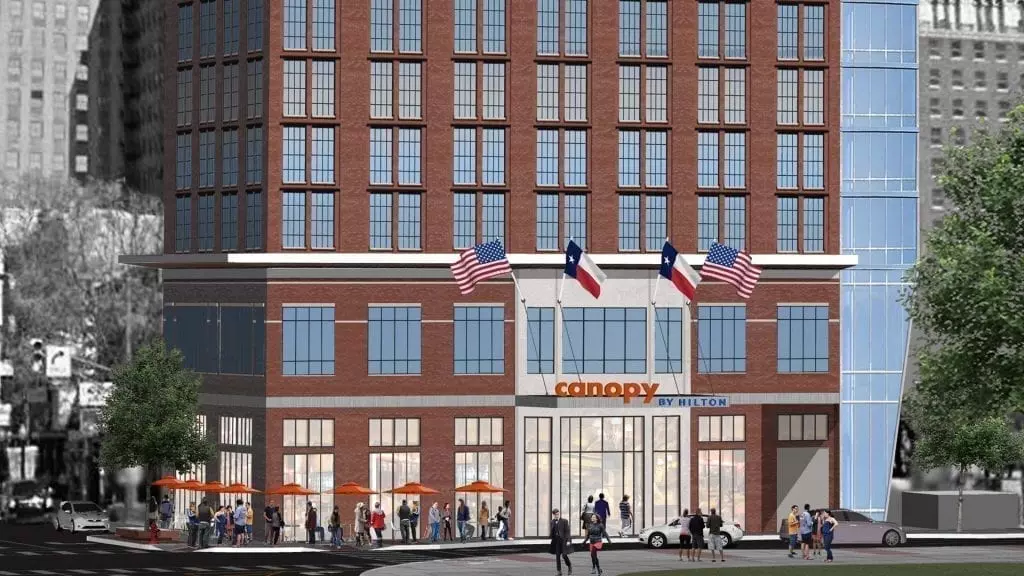 MWT Architect + Hilton Hotels & Resorts |
Flags
MWT Hotel and Resort Architects sejak 1994 telah bekerja secara luas dengan Hilton Hotels and Resorts dan banyak benderanya. Hilton menawarkan peluang franchise yang merespons demografi dan kebutuhan dunia wisatawan yang terus berubah. Perubahan tidak bisa dihindari karena merupakan bagian dari kehidupan, dan MWT Hotel dan Resort Architects dan Hotel Plans merangkul masa depan dengan Hilton. Kami berdua terus berkembang dengan tuntutan masyarakat saat ini dan kebutuhan individu mereka dari berbagai jenis wisatawan.
Hilton merupakan merek terkemuka dalam bisnis ini. Dengan hampir 1.000.000 kamar hotel di seluruh dunia, Hilton menawarkan 19 bendera yang mencakup beberapa properti hotel paling terkenal di dunia. Berikut ini adalah daftar bendera yang saat ini ditawarkan dalam portofolio Hotel Plans; Hilton Hotels and Resorts, Waldorf Astoria, Conrad, Canopy, Curio Collection, Doubletree, Tapestry Collection, Embassy Suites, Hilton Garden Inn, Hampton Inn and Suites, Tru, Homewood Suites, Home2 Suites, dan Hilton Grand Vacations.
< p style = "text-align: center;"> Karena beberapa area pasar dan kota telah menjadi penghalang masuk yang lebih tinggi, pengembang real estat telah beralih ke hotel bermerek ganda dan tri. Arsitek Hilton dan MWT Hotel telah menciptakan banyak perkembangan dengan franchisee untuk meraih pangsa pasar yang lebih besar dan beragam hanya dalam satu pengembangan. Fleksibilitas menawarkan properti terjangkau yang efisien seperti TRU by Hilton dan Extended Stay seperti Home2 Suites adalah peluang keuangan yang luar biasa untuk pangsa pasar yang lebih seimbang dan pengembalian investasi seseorang yang lebih baik dan lebih aman. Beberapa penghematan staf konstruksi dan karyawan termasuk, satu entri utama dengan lobi campuran, area check-in meja depan, lift bersama: kolam renang, ruang olahraga, dan area belakang rumah. Kombinasi satu properti, dan fasilitas bersama menjadikan properti ini investasi real estat yang lebih baik.
MWT Architect + Hilton Hotels & Resorts |
Services
Mark Tiedemann CEO MWT Hotel Architect dan Hotel Plans telah bekerja berdampingan dengan Hilton Hotels and Resorts sejak didirikan pada tahun 1994. Kami memiliki sejarah selama 26 tahun yang bekerja secara langsung dengan pengembang dan tim eksekutif di Hilton. MWT selalu mengembangkan pekerjaannya pada rencana hotel dengan bekerja sama dengan tim eksekutif di Hilton dan pemegang franchise. Kami mengembangkan proyek desain yang menggabungkan kerasnya kondisi lokal, dan kode bangunan federal dan standar merek franchise.
Pengembang dan kontraktor terkadang tidak selalu memahami kompleksitas memenuhi kode bangunan, dan peningkatan berkelanjutan yang dilakukan dalam standar merek Hilton. Dokumen-dokumen konstruksi hotel yang khas sekarang diperlukan untuk mendapatkan persetujuan waralaba dan izin bangunan sangat ekstrim. Kami melihat lebih dari 400 lembar gambar dan ratusan halaman spesifikasi desain yang mengoordinasikan desain suatu proyek. Setiap tahun, MWT telah bekerja dengan Hilton bar dan kompleksitas desain bangunan juga ditetapkan lebih tinggi. Untuk jenis kondisi ini, Anda memerlukan perusahaan seperti MWT yang memiliki pengalaman dan tahu bagaimana tidak hanya bekerja dari awal, tetapi kami mengembangkan solusi nyata bahkan ketika proyek sedang dibangun.
Standar merek selalu berkembang di Hilton dan kadang-kadang mid-stream, kami diminta untuk membuat perubahan untuk evolusi selanjutnya dari bendera yang sedang dibangun. Meskipun hal ini tampaknya hanya buang-buang waktu, ini benar-benar memberi pemilik / pengembang desain terbaru dan terhebat dalam rencana hotelnya. Ini akan memberi pengembang keuntungan sejalan dengan standar merek saat dibuka. Kami bekerja sepanjang waktu dan sangat berterima kasih melihat hasil yang dibangun di seluruh dunia dan dibicarakan di media sosial.
MWT Architect + Hilton Hotels & Resorts |
About Hilton Flags
Hilton Hotels & Resorts | MWT Hotel & Resort Architect | 
Information
Kami dengan senang hati ingin bekerja sama dengan Anda. Kami membantu mengubah aspirasi klien kami menjadi kenyataan. Bagaimanapun, visi Anda menginspirasi desain kami.