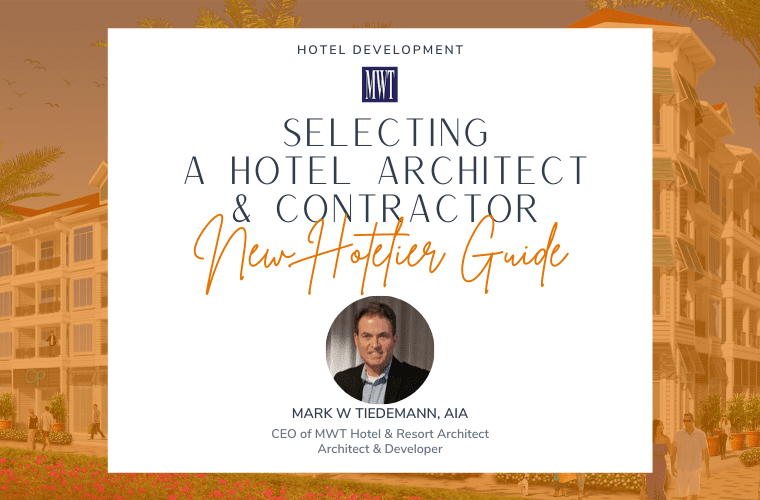 The Differences Between Your Local Architect and Our Specialized Architects
Designing a hotel takes very specific knowledge. First and foremost, make sure that your architect is experienced in hotels, meaning ten or more built projects is a beginning. Franchise experience with the flag your building makes the most sense as they can guide you better through the process, example if your building a IHG project, specifically the flag is Holiday Inn Express make sure your design team had at least by done one of these projects before. This will save you the learning curve and speed up the process.
During the architect interview process I recommend that you meet your architect, either in person or video conference, and have a constructive dialogue of the process to make sure that you will be able to work with the firm and the team you will directly work with. The design and construction process will be at least 12 months from the beginning to the very end of the project. They are going to be your teammates.
Selecting The Contractor
The contractor is the most highly paid person on the team. Personally, I have had both great and poor experiences with contractors. It is a difficult role to hire for but again this is where the hotel experience comes into play. Controls are in place with the architect, bank inspection, and third-party testing agencies, to provide oversite and controls. The contractor typical is subcontracting every part of the hotel project.
A good contractor will provide shop drawings and review them with the architect at least 45 days before that part of the construction starts. This is important because I have had contractors that continually avoided this cost and then when a problem arises, the sky is falling that day. Contractors want to continually lower the construction cost because they save money. That is more profit for them that means problems can be good business for them to improve the bottom line. The threat of the contractor quitting or charging for delays is typical all drama. My father was a general contractor that was fair and very knowledgeable, and we'll educated in the process. Problems always arise, knowing how to handle them for successful resolution is the key.
Great contractors know how to get the job done right. The best ones manage the team, prepare shop drawings and organize the tasks. When this takes place the synergy and time to build the project are optimum.